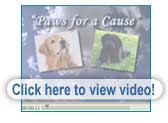 If Hope Were A Medicine,
Then Surely, Love Would Be A Cure
Anyone who has ever loved a pet, recognizes the deep well of grief one experiences, when their pet reaches old age and passes on. For many, that grief becomes overwhelming, when the loss of a pet comes unexpectedly, and too soon, when their pet is stolen by cancer. Sadly, cancer is the most frequent cause of death in dogs! Over 45 per cent of all dogs, will die from some form of cancer.
Together we can make a difference, and take a bite out of canine cancer!