FIFTH ANNUAL PAWS FOR A CAUSE WALK
FOR CANINE CANCER (2007)

Le Centre de la Nature de Laval
Laval, Québec
August 12, 2007 (le 12 août, 2007)
Raising over $2,600 (montant collecté de plus de $2,600)
| | | |
| --- | --- | --- |
| | | |
| | | |
| | | |
| | | |
| | | |
| | | |
| | | |
| | | |
| | | |
The Muskoka Wharf
Gravenhurst, Ontario
July 28, 2007
Raising over $1,300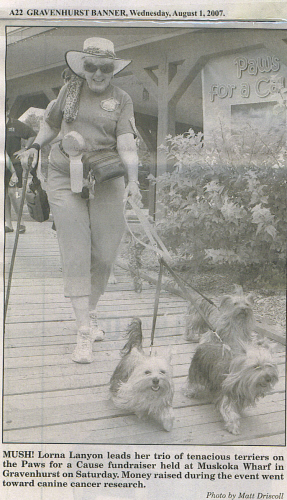 Beachway Park
Burlington, Ontario
June 24 , 2007
Raising over $8,000
Glenmore Park North
Calgary, Alberta
May 6, 2007
Raising over $4,000
Photographs Courtesy of Tim Kowalchuk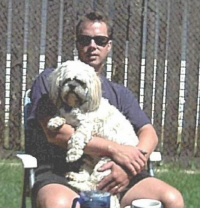 Calgary Door Prize
Portrait drawn and donated by Richard Henri

PAWS FOR A CAUSE BENEFIT CONCERT
April 29 , 2007
Cowboy's - Guelph, Ontario


Sponsors
We'd like to thank all of our sponsors for supporting the 2007 PAWS FOR A CAUSE BENEFIT CONCERT.
Information on Performers and Host
Your Host

Hosted by Sam Cook,
Weekend Announcer 12:00 - 6:00pm, Country 95.3
Sam began highland dancing at the age of four then by 15 she began to teach jazz, tap, hip hop and musical comedy. Dancing took her all over North America to places such as Florida, Boston, New York City and as far away as Scotland. Sam attended Mohawk College in Hamilton where she graduated from the Television Broadcasting program. For her last semester of school, she interned for THE LATE SHOW WITH DAVID LETTERMAN in New York City as the segment producer for the Stupid Human and Pet Trick segments. You can catch Sam every weekday as one of the Masters of Mayhem on the hit game show "UHOH" on YTV! Sam is also an actress who has appeared in many television series, films and commercials. She recently just finished shooting a reality based TV show in Jamaica.
In 1996, along with being signed to a major album deal with BMG Canada, Julian teamed up with friend, accomplished producer and writer, Daniel Leblanc (Alanis Morissette, Dean McTaggart), to record what has become Julian's best selling CD to date "What My Heart Already Knows". Soon after the 1997 debut release of this CD it earned Julian a certified CRIA gold record (50k+ sales ) and the 1997 Wrangler Rising Star Award from the Canadian Country Music Association. His first single "Little Ol' Kisses" went #1 on radio and also made the CMT Top 30 Videos of 1997.
In 1998 he decided to make the big move to Calgary, AB where he has resided with his wife Angela and their beagle Baxter for the past six years. Austin vows that one day he will convince Angela to move back to the place where it all began.
After releasing his follow up CD "Back In Your Life" in early 2000 it earned him six CCMA nominations. His band "The Austinators" won "Best Back Up Band" - two years in a row. In August of 2002 "Bulletproof" was released. Julian's latest release is titled "It's A Good Life".
For more information about Julian Austin and his music, please visit www.julianaustin.com
What separates an act that is successful from one that isn't? Great songs... An original sound... A highly entertaining live show... And a collection of spicy characters that keep people coming back for more. Combing the sounds of Rock and Country, Dry County is... Where AC/DC Meets Alabama...

Dry County has graced the pages of country music publications and newspapers and broken through the barriers at the country music festivals, selling out clubs throughout the province. With the help of their 200 plus boosters (who charter buses wherever and whenever Dry County plays) helped Dry County end 2004 with an Ontario Country Music award nomination for Club Artist of The Year. The only all original act to do so.

Originally formed in 1998 after shared decades on the bar and festival circuit, Dry County has been kicking ass and taking names all across Southern Ontario. Their 2002 self-titled debut CD landed 5 songs on over 50 radio stations nationwide and have been included in live to air interviews as feature artists

Fronted by singer/songwriter Jeff Gallagher, the flamboyant bad boy of the group with 14 years of playing experience, he is not only Dry County's primary songwriter, but he also writes for many other artists as well.

Producer/lead guitarist Randy Solski is a 15-year veteran of the music business with an endless list of credentials. Randy is a graduate of Fanshawe College's Music Industry Arts Sound Engineering Program with a post grad in Digital Applications. He is also recognized as one of the top drummers in the area winning first place in two categories at the American Guild of Music drum competition. Since opening his recording studio in 1998, he has Sony Music, EMI, Universal and Epic records credits to his name.

Keyboardist Don Laframboise, bass player Keith Silver and drummer Uncle Dik come from a combined 40 plus years of touring experience as session players for various recording artists. They are not only fan favorites, but are the intangible soul of the Dry County sound.

With their latest release, "Waitin' On Hank", Dry County continues to gain attention and impress legions of fans all over proving that this tough as nails act will always show that the edge, attitude and heart in their music has come by honestly.
For more information visit:www.drycountyband.com
Laura has been focusing on her first love of country music since 1999. She has been part of a very talented young country group who has consistently played to rave reviews throughout Ontario. In addition to their very busy touring schedule, Laura has also been hired as a demo singer at several studios in the Toronto area.
Laura Rose's Debut CD "Capture the Magic," was completed in April 2002. Her first single release "This Close to Heaven" climbed to #39 on the Canadian Top 100 Country Charts. "So Long Leon" was released to radio November 1, 2002 and peaked at #25 on Country Music News' Top 100 CanCountry Hits Chart in February 2003!
In addition to pursuing her solo career,Laura is thrilled to be the newest member of the multi-talented Canadian Country artists, "The Daughters" (formerly Farmers Daughter). To add to her continued list of accolades, Laura was also nominated as 2003 CCMA Independent Female Artist of the Year and 2004 OCPFA Female Vocalist of the Year.
Laura is currently in the studio working on her second album and is planning to release in late 2007 or early 2008.
For more information visit:www.laurarose.com