FOURTH ANNUAL PAWS FOR A CAUSE WALK FOR CANINE CANCER (2006)

Bronte Creek Provincial Park
Oakville, Ontario
June 11, 2006
VIEW Clips of 2006 Bronte Creek - Chris Cummings' performance



Glenmore Park North
Calgary, Alberta
June 25, 2006
Torrance Barrens Trails
Torrance (Muskoka), Ontario
July 8, 2006
PAWS FOR A CAUSE BENEFIT CONCERT
January 27, 2006
Hamilton Place – Hamilton, Ontario
VIEW Clips of Concert Perfomances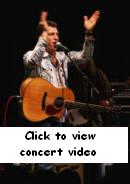 Concert Photographs courtesy of David Blais:
davi
DB
lais Photography
Hamilton, Ontario
email: David Blais
Information on Performers and Host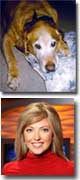 Due to a conflict in scheduling, Cheryl Hickey was unavailable to host the event. Cheryl sends her regrets. Having lost her dog to cancer, she will continue to support our cause.
A Message From Cheryl Hickey:
"I regret that I won't be able to attend the Paws For A Cause Benefit Concert as originally planned. Family responsibilities are taking me out of the country - but I encourage you all to continue supporting the excellent work that's being done by Paws For A Cause, and to let your family and friends know about this outstanding group. I wish you, and all your pets a very happy, healthy 2006."

Your Host

Hosted by Sam Cook,
Weekend Announcer 12:00 - 6:00pm, Country 95.3
Sam began highland dancing at the age of four then by 15 she began to teach jazz, tap, hip hop and musical comedy. Dancing took her all over North America to places such as Florida, Boston, New York City and as far away as Scotland. Sam attended Mohawk College in Hamilton where she graduated from the Television Broadcasting program. For her last semester of school, she interned for THE LATE SHOW WITH DAVID LETTERMAN in New York City as the segment producer for the Stupid Human and Pet Trick segments. You can catch Sam every weekday as one of the Masters of Mayhem on the hit game show "UHOH" on YTV! Sam is also an actress who has appeared in many television series, films and commercials. She recently just finished shooting a reality based TV show in Jamaica.


Chris Cummings


Due to personal reasons, Chris Cummings was unable to perform at the concert. Chris sends his regrets and has expressed interest in performing at a future Paws for a Cause event.
For more information about Chris Cummings and his music, please visit www.chris-cummings.com


Gil Grand

Gil Grand hails from Sudbury, Ontario, Canada, Commonly referred to as "the nickel capitol of the world." This Northern Ontario town is not only known as a mining community, but has also been "home" at one time or another to Canadian country music singers Michelle Wright, Diane Chase and Shania Twain. When asked, what's in the water up there, Gil replies; " it's not surprising to me. Sudbury is, and has always been a HUGE country music community. I believe that a big part of who you are is where you come from. There was never a shortage of country pickers and you could always find a place to plug in and play."
In 1998 Gil left home and headed for Nashville.He would eventually sign a major US record deal with Sony Music Nashville's Monument Records. His debut album "Famous First Words" immediately gained the attention and accolades of the country music industry. He received three CCMA nominations including Male Vocalist of the Year, Album of the Year and Wrangler Rising Star. This proved to be an impressive debut and a solid foundation for a brand new artist to build on. Almost immediately, Gil found himself on the road, opening shows for American headliners like Tracy Byrd and the Dixie Chicks. Gil Grand's career was heating up, and Nashville was becoming more than aware of Gil's songwriting abilities. This led not only to friendships, but several successful collaborations with two of Nashville's best - Odie Blackmon, who wrote George Strait's chart-topper "She'll Leave You With A Smile" and Byron Hill, who penned another #1 for Strait, "Fool Hearted Memory".
With a bunch of new songs under his belt, the stage was set for the release of his second album entitled "Burnin". Released in December of 2002, Burnin' has become virtually a "greatest hits" album. "Cry A Little", Break It To Them Gently", "Run" and the title track all blazed their way up the charts and were mainstays on radio airwaves across the country. The success of this record earned Gil 5 CCMA nominations in 2003 including Single Of The Year, Socan Song Of The Year, Video Of The Year, and Best Album Graphics, with Gil taking home the award for Independent Male Artist of the Year.
In the summer of 2005, Gil began recording his third album. Working with CCMA Award winning producer, Joel Feeney, he has put together his finest collection of songs to-date. Included on the album are collaborations with some of country's top writers including the previously mentioned Odie Blackmon, Tim Taylor, Deric Ruttan, Steve Fox, and Gilles Godard. The album, "Somebody's Someone" will be released in early 2006. Whether sharing his songs and stories in an acoustic setting, or performing at one of his energetic full-band concerts, Gil Grand continues to wow audiences with his pure traditional voice and his ability to entertain and connect with the fans. "It's an incredible feeling to share your music with the fans and to know you've touched someone's life. I feel blessed and proud to be a Canadian country artist. This is the best job in the world! For more information about Gil, please visit www.gilgrand.com


Brad Johner
Canadian country music sensation, Brad Johner, continues on a roll with the release of his sophomore solo album, Summertown Road, the follow-up to his very successful and Juno-nominated solo debut Free. It is already showing signs of being another huge success spawning two Top 10 songs and videos and is loaded with more surefire future hits.
It's been a very busy year for Johner besides completing his album. Several high profile performances this year, including the Queen's Gala and Canada Summer Games, and an unremitting touring schedule from Victoria to Quebec City, has kept Johner on the forefront of the Canadian Country music scene, a position he carved out over a thriving decade-long career in Canada.
A successful run with brother Ken, as The Johner Brothers, led to four hit albums before Brad turning solo in 2003. The industry has responded positively to the move, recognizing Brad with a 2003 Western Canadian Music Award for "Outstanding Country Album", 2003 CCMA nominations for "Album of the Year" and "SOCAN Song of the Year", and a win at the 2004 Canadian Independent Music Awards for "Favourite Country Artist/Group". He was also recognized with Juno and CCMA nominations in 2004.
No surprise! Brad has always preached: "Take care of the music, and the music will take care of you."
For Brad it all starts with the song and it's imperative that he puts his heart, soul and voice into songs both he and his audience can relate to.
On the live front, Brad is a veteran of the stage. His polished performance and exceptional band culminate into a truly entertaining and memorable show.
Brad knows his audience and can adapt his show for any venue or crowd, enabling him to reach a wide and diverse audience, and leave them enthusiastically satisfied. when out on stage, with his band and his fans, he feels that he's in the presence of friends.
Married to his high school sweetheart since 1992, Brad and Rhea are not only tracking Brad's explosive solo career but are also kept very busy raising their five boys. "My family keeps me grounded and focused. It's all about balance and I think we've found that." says Johner. It looks like Brad is doing just fine out on his own!For more information about Brad, please visit www.bradjohner.com


The Cruzeros
The Cruzeros' self-titled debut album released in 1996 resulted in five charting singles, four videos on CMT, two Top Ten CanCountry hits and dozens of award citations including a JUNO nomination for Country Group Of The Year. Their second album, 'El Niño', released on August 7,2001, won the Canadian Independent Music Award for Best Country Album for 2002. Four singles were released to radio and two videos to CMT. Three songs from El Niño were featured in The Barber, a major motion picture starring Malcolm McDowell. Scandalosa is the group's third offering and has already received four star ratings from critics. The disc includes 10 new original songs by the Cruzeros as well as covers of Donny Ray Ford's "Cowboy Boots" and the classic 60's hit "Wooly Bully" by Samudio Domingo. The song November 11th was pre released in Canada in time for Rememberance day, 2004. A video for the new single, Load Me Up hit the airwaves in June and quickly climbed the CMT charts to #7 on the Big 12 and #15 on the Chevy Top 20. The Cruzeros hit the road all summer to promote the new record and a tour of Europe is being planned for 2006.
For more information about The Cruzeros and their music, please visit www.cruzeros.com


Julian Austin

In 1996, along with being signed to a major album deal with BMG Canada, Julian teamed up with friend, accomplished producer and writer, Daniel Leblanc (Alanis Morissette, Dean McTaggart), to record what has become Julian's best selling CD to date "What My Heart Already Knows". Soon after the 1997 debut release of this CD it earned Julian a certified CRIA gold record (50k+ sales ) and the 1997 Wrangler Rising Star Award from the Canadian Country Music Association. His first single "Little Ol' Kisses" went #1 on radio and also made the CMT Top 30 Videos of 1997.
In 1998 he decided to make the big move to Calgary, AB where he has resided with his wife Angela and their beagle Baxter for the past six years. Austin vows that one day he will convince Angela to move back to the place where it all began.
After releasing his follow up CD "Back In Your Life" in early 2000 it earned him six CCMA nominations. His band "The Austinators" won "Best Back Up Band" - two years in a row. In August of 2002 "Bulletproof" was released. Julian's latest release is titled "It's A Good Life".
For more information about Julian Austin and his music, please visit www.julianaustin.com


Bareback Riders

Grand Prize winners of 2005 Corus Entertainment Cross Country Battle of the Bands.
Bareback Riders CD to be released Fall 2005.
For more information about Bareback Riders and their music, please visit www.barebackriders.ca